SOUNDER WITH BASE AND LIGHT SIR24B+BSLC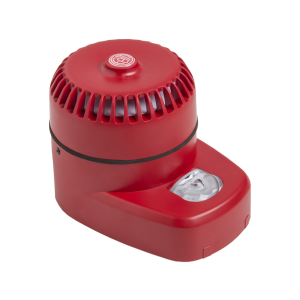 SOUNDER WITH BASE AND LIGHT SIR24B+BSLC

Sounder SIR24B + BASE with light BSLC
Description
Indoor and outdoor sounders to connect directly to the sounder output of the control panles or relay modules.
SIRENA SIR24B, SIR24BL, SIR24BZA & BSLC
Indoor and outdoor sounder made of in red ABS.
High volume sound. Low consumption.
32 selectables tones. Volume control.
Automatic synchronization.
SIR24B: Sounder.
SIR24BL: Sounder with light.
SIR24BZA: Sounder with high base.
BSLC: Base with light, certified according EN54-23.
Features
Voltage range
9-28 Vdc
Consumption (using tone 3)
a 24 Vdc 16 mA
Output volume (tone 3)
a 24 Vdc 102 dB (A)
Operating temperature
-25ºC a +70ºC
Dimensions
Ø95 x 91 mm (SIR24B)

Ø95 x 135 mm (SIR24BL/SIR24BZA)

Ø95 x 95 x 135 mm (SIR24B+BSLC)

IP protection
IP54-SIR24B

IP65-SIR24BL

IP65-SIR24BZA

IP65-SIR24B+BSLC