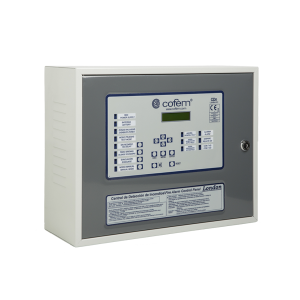 LONDON CONTROL PANEL
London control panel for fire detection system.
Description
The London control Panel has been designed according EN54 part 2 and 4 in accordance with the last directives, successfully overcoming the most severe tests of environmental conditions, conducted electrical noise, magnetic disturbances, vibration, etc.
Based in a micro processed technology of 16 bits, used this for managing the detection system and performed maneuvers.
Features
• Control panel configurable up to 12 modules, with 4 zones or 4 relays (control panel limit of 48 outputs, relays and zones).
• Expandable up to 32 modules with an additional cabinet (limit 128 outputs, zones and relays).
• Supports up to 32 devices (detectors and call points) per zone.
• Configurable with PC-EASYLondon software (RS232).
• It allows to connect an external keyboard (standard PC-PS2).
• It allows the connection of 10 repeaters.
• 30Vdc auxiliary output.
• Equipped with 1 delayed sounder output (0 to 10 minutes) and supervised.
• Equipped with 1 alarm output and 1fault output as free voltage relays.
• It allows the connection of a printer (RS232).
• Certified according EN 54-2 and EN 54-4, and CE mark.
• Access to the panel keyboard by means of a numeric code.