DUAL TONE ALARM SOUNDER WITH LIGHT SIR 24BL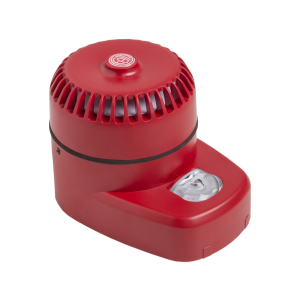 DUAL TONE ALARM SOUNDER WITH LIGHT SIR 24BL
Indoor and outdoor dual tone alarm sounder with light made of red ABS plastic.
Description
Indoor and outdoor sounders to connect directly to the sounder output of the control panles or relay modules.
SIRENA SIR24B, SIR24BL, SIR24BZA & BSLC
Indoor and outdoor sounder made of red ABS plastic.
High volumen sound.
Low consumption.
32 selectables tones.
Volume control.
Automatic synchronization.
SIR24B: Sounder.
SIR24BL: Sounder with light.
SIR24BZA: Sounder with high base
BSLC: Base with light, certified according EN54-23.
Features
Voltage range
9-28 Vdc
Consumption (using tone 3)
at 24 Vdc 16 mA
Output volume (tone 3)
at 24 Vdc 102 dB (A)
Operative temperature
-25ºC to +70ºC
Dimensions
Ø95 x 91 mm (SIR24B)Ø95 x 135 mm (SIR24BL/SIR24BZA)

Ø95 x 95 x 135 mm (SIR24B+BSLC)

IP protection
IP54-SIR24BIP65-SIR24BL

IP65-SIR24BZA

IP65-SIR24B+BSLC